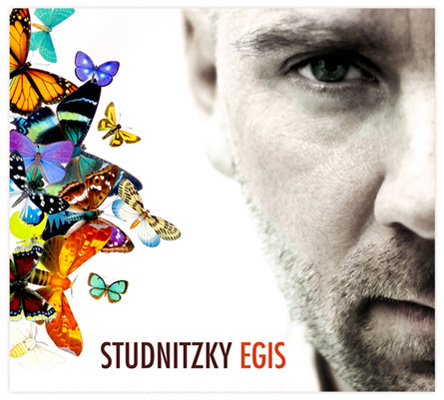 Sein Sound ist unverwechselbar, seine Klangwelten sind detail- und ereignisreich, sein Anliegen ist in einer sehr persönlichen musikalischen Sprache formuliert.
Sein neues Album heißt »EGIS« – ein Album, das all sein Können auf den Punkt bringt, lustvoll und spannend daherkommt – voller unterschiedlicher Geschichten, hoch konzentriert und aufgeladen mit viel Energie.
Sebastian Studnitzky lebt in Berlin, ist ein gefragter und profilierter Sideman auf internationalen Bühnen (u.a. mit Nils Landgren und Jazzanova) und ist in vielen Musikstilen zuhause.
Mit seiner Trioformation (Paul Kleber am Kontrabass/Sebastian Merk am Schlagzeug) hat der Trompeter, Pianist und Keyboarder Studnitzky seinen ganz eigenen Sound entwickelt: Es ist Jazz - und es ist viel mehr. Es ist Musik in der sich große Emotionen mit konsequenter Reduktion vereinen und vieles hörbar und erlebbar machen.
Ob mit der Trompete oder am Klavier sind seine Songs durch seine ungewöhnliche, sehr individuelle Klangfärbung geprägt: weich, fließend und zurückgenommen, aber nicht minder intensiv und eindringlich - entwaffnend schlicht und unmittelbar.
With a unique sound, fascinating detailed soundscapes and a message delivered in a musical language entirely his own, Sebastian Studnitzky's new album, EGIS, brings his mastery into focus. Overflowing with vitality and excitement, packed with energy, the album tells many different stories.
He lives in Berlin and works with renowned artists on an international level. "I used to be just a jazz trumpeter", says Sebastian Studnitzky. However, in the course of his musical career, he has opened a lot of doors: Now he is proficient in a variety of musical styles and has developed into a unique multi-instrumentalist. Playing the trumpet, the piano and the keyboard on his new album EGIS, Sebastian Studnitzky has created his very own sound.
EGIS is Jazz - and a lot more. There is a unique sound, a special type of emotion as well as a certain minimalistic character that makes the listening experience more intimate at the heart of Sebastian Studnitzky's music - real up close.
"When I compose my songs, I already have the exact sound for them in mind", says Sebastian Studnitzky. While «waiting» for a new composition to come through, it is silence that inspires him. Following the waiting the results are then planned down to the last detail. Everything must be exactly right: the instrumentation, the atmosphere in the room and the individual input from his fellow musicians. It is no coincidence that the line-ups vary and that each song has its very own authentic touch.
Based on a trio line-up (with Paul Kleber on double bass and Sebastian Merk on drums), Sebastian Studnitzky enriches his compositions by adding different guest players: Wolfgang Haffner and Tommy Baldu play drums, a string quartet meets electronic sound components and a programmed drum solo by Jazzanova sounds as if an old Jazz record was improvising along with it.
For some songs, Sebastian Studnitzky played all the instruments in the recording by himself. These make for the most intimate moments on his album. Whether playing the trumpet or the piano, he gives the songs an unusual tone colour: simple, soft, flowing and restrained but nevertheless intense and haunting.
His individual playing beyond any stylistic categories makes him a highly distinguished and sought-after sideman on the international stage - among others, he plays with Nils Landgren and Jazzanova while keeping his own projects, such as his Jazz award-winning band Triband, on the go.
It is his sound, his creative restlessness, his musical range, his exactness and his energy that characterize Sebastian Studnitzky as a musician - and on EGIS, the listener can hear it all: unobtrusively haunting.